Innovative force for your future
The world is changing: constant technical, political and economical developments are creating new challenges for companies – as well as heretofore unknown risks. As an insurance broker and risk consultant with a history spanning 140 years, we know that our ability and willingness to continually evolve is an essential foundation for our success. That's why we set ourselves the target of being an innovation driver in our market environment. Our objective is to create innovations that offer companies immediate added value in the face of new risks and changing markets. And to meet that aim, we are constantly looking at new risks and developing innovative products, services and tools within the framework of our holistic innovation management approach. We also find new ways of connecting our clients with innovative risk solutions and are a dedicated co-publisher of the annual book Insurance & Innovation. Thanks to our holistic and committed approach, we can offer our clients the best recommendation even in the future.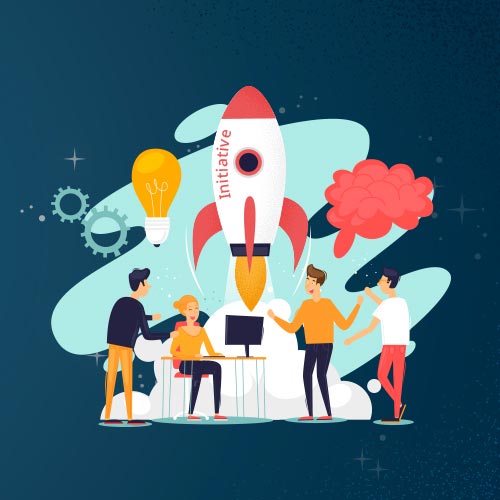 Innovation management in the company – the Funk innovation network
The Funk innovation network provides a solid, far-reaching foundation for innovation development at Funk. The way the network is structured follows the 'Dual Operating System' concept for organisations developed by John P. Kotter, Professor of Leadership at the Harvard Business School in Boston.
In a time-limited, agile sprint, Funk experts go out of their usual areas of responsibility and work on innovative insurance, risk and pension solutions in interdisciplinary collaboration with each other. Supported by the Funk Academy, the innovation network produces new products, services and tools using modern workshop methods. During product development, added value for our clients lies at the centre of our work and is incorporated in the development process in the very early stages. With this approach, Funk experts are able to address the individual needs of our clients in an even more targeted way.
The innovation network involves all 1,250 Funk employees in the innovation development process. Each expert can suggest ideas, collaborate on innovation initiatives, give feedback on these initiatives or add their observations on market and technology trends. Innovation initiatives are developed and communicated within the entire company in a transparent way. And ultimately this process results in scalable, market-oriented innovations with concrete benefits for our clients.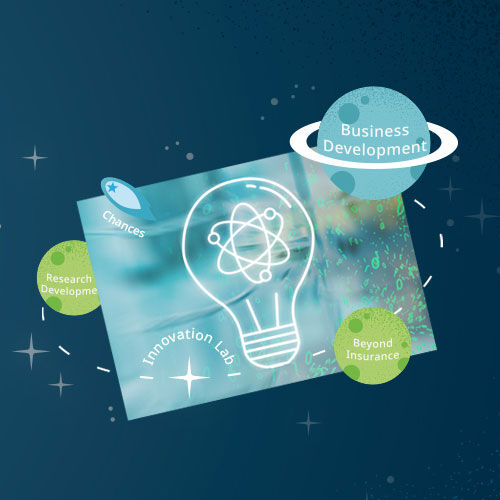 Focus on new client risks – the Funk Innovation Lab
The Funk Innovation Lab focuses on finding innovative opportunities for preventing risk and actively engaging with clients. In times when the risk and opportunities landscape is constantly changing for companies of all sizes and in all industries, Funk brings medium-sized businesses and start-ups together at this event. At changing locations around Germany, start-ups present new technical developments for risk prevention and discuss the opportunities and applications of these technologies with medium-sized businesses. Through the Innovation Lab, Funk not only addresses new risk fields arising from digitisation but also digital approaches to preventing these risks and innovative solutions for transferring risk accordingly. This includes, for example, the use of artificial intelligence, sensors or drones. The Funk Innovation Lab brings technical innovations where they are needed – directly to Germany companies.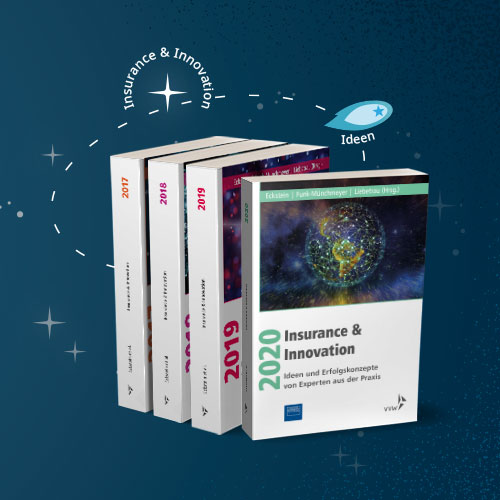 Sustainable commitment for the industry – the Insurance & Innovation book
The book Insurance & Innovation offers a straightforward look at innovations in black and white. Funk has been a co-publisher of the annual publication since 2016, showing its long-term commitment to creating transparency about forward-looking innovative approaches from the entire insurance sector. Funk supports innovative force in the industry with this book, offering clients up-to-date insights into a broad selection of different innovative ideas. The book is a compilation of numerous practice-oriented articles on the future of the insurance sector and is published by the renowned industry publishing house, Karlsruher Fachverlag Versicherungswirtschaft (VVW).
The primary target audience of Insurance & Innovation comprises executives and decision-makers in the insurance business, who work in creative and strategic roles. The articles, such as those on innovative insurance solutions or new digital methods, are authored by accomplished experts from the worlds of academia, business and industry. Funk experts, too, make their own contributions to the book. Insurance & Innovation is yet another way in which Funk supports the extensive discussion of innovations in the industry and among insurance clients.