More security through comprehensive risk consulting and intelligent insurance management
As one of the leading insurance brokers and risk consultants in Europe, we give companies and decision makers around the world the best recommendation when it comes to their security and employee benefit solutions.
Corporate Blog
News
Funk's international service
Close to clients around the world
With 35 international offices and our unique network "The Funk Alliance", we are always where you need us – all over the world. Profit from our expertise in in all matters of insurance, risk and employee benefit management when conducting your international business.
Learn more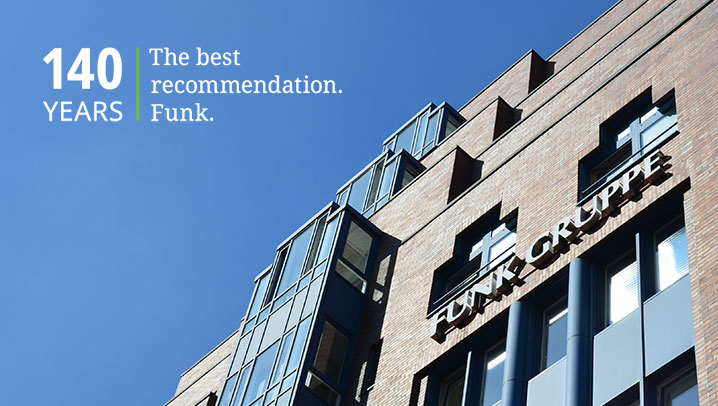 Funk celebrates its birthday
The best recommendation for 140 years
In 2019, Funk celebrates its 140th. anniversary. Find out more about the history of our family-run company and the most significant events of the years 1879 to 2019 in our timeline
Discover our timeline
Funk in moving images
A filmic look into the world of insurance
Expert opinions, interviews, a journey through Funk's history, and much more: watch videos about Funk and on specialist topics of your choice here on our website.
To the videos
Portfolio
The best recommendation.
For over 140 years, we have focussed our attention on what makes companies really valuable and worked with our clients to secure the future. As Germany's largest independent family-run insurance broker and risk consultant, we are renowned experts for insurance solutions, risk management, asset assurance and pension solutions. We are a strong partner for companies, entrepreneurs and their objectives, not only because of our great expertise in our business field but also because as a family-run company, we know exactly what counts when you want to protect your values for the future.
That makes us the best recommendation when it comes to the most important parts of your company strategy: assuring your values, managing risks and developing sustainable models for value-adding pension schemes. With over 1,250 employees, we have comprehensive knowledge of the challenges and opportunities in almost all industries and markets – and we provide holistic advice and support for companies along the way to a secure future. And not just in Germany: as a European broker with 35 Funk offices and our own network of brokers, the Funk Alliance, we have more than 300 offices in over 100 countries so we are always where you need us.
The best recommendation in practice
"As an international company, we not only want to identify the different risks we face, but also manage them effectively. Funk is exactly the partner for this: thanks to Funk we were able to devise a comprehensive risk management approach and are now able to continuously adapt it to our current individual risks."
Stephan Jansen, Managing Director, Zentis GmbH & Co. KG
What clients say