Having all risks on your radar
Anyone who wishes to hold their own on the market needs to monitor both traditional and new risks, estimate the likelihood of their occurrence and devise individual action plans. That's where holistic risk management comes in. In an interview, Funk expert Hendrik Löffler explains what companies should keep in mind.
'How much uncertainty can I afford?'
The experts at Funk are on your side for the entire risk management process. An interview with Hendrik Löffler, Member of the Funk Management Board and Managing Partner of Funk Risk Consulting, demonstrates which aspects are especially important.
Every company faces risks that threaten losses or even its entire existence. There is an individual mix of risks depending on a company's industry, size and business model. The task of identifying all of these potential risks, protecting against them and drafting contingency plans is highly complex. Moreover, certain legal obligations need to be fulfilled. Every company can benefit from holistic risk management: when you know what risks you face, you create transparency, reduce the likelihood of a crisis, increase your planning certainty and are able to come up with targeted measures to secure your company's long-term success. When introducing a risk management system, it is important to go step by step, first identifying and assessing all significant risks. These risks are then integrated into company planning and aggregated into an overall risk position. Taking the company's liquidity and capitalisation into account, the ultimate aim is then to establish a needs-based risk management strategy alongside a system for early risk detection and monitoring.
Mr Löffler, why should companies take an intensive approach to risk management?
Risk management is becoming increasingly important in corporate practice. Running a professional risk management system can detect potential negative developments early and help prevent them. Planning certainty increases, while risk costs are optimised. We've identified these advantages early: Funk has long offered its clients risk management consultancy services that go far beyond conventional insurance management. With our holistic approach as a system house, we are one of the market leaders today.
Introduction of a risk management system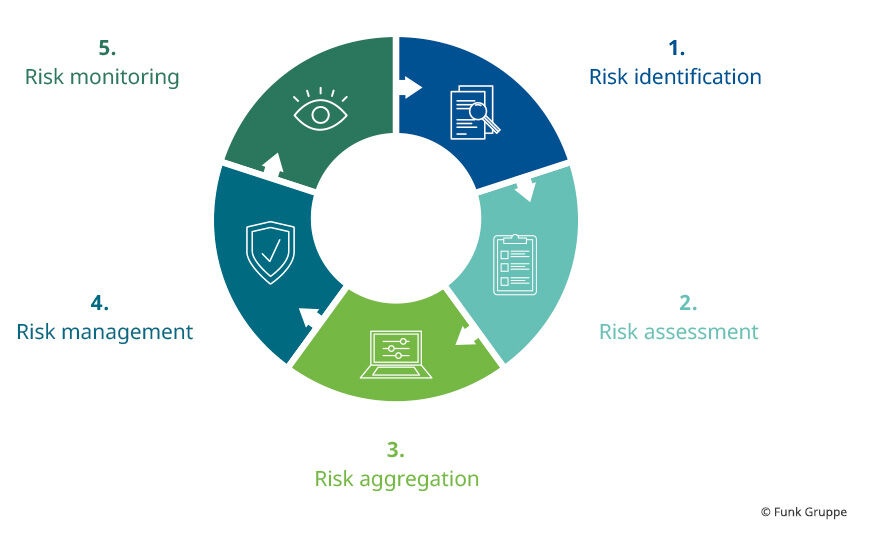 In a concept workshop, the Funk experts develop an individual risk management concept that is tailored to the special needs of your company.

What challenges do you currently see for companies?
Political risks are playing an increasingly large role: the trade war between the USA and China, and also between the USA and Europe, is especially hitting Germany with rising force. The developments in the Middle East and also in North Africa are introducing their own risks as well. Aside from political risks, natural disasters are increasing as well and threaten company value creation and supply chains, as do cyber attacks. Entire business models are just as under threat from new digital competitors as they are from the changed purchasing behaviour of customers or political situations. Companies have to ask themselves what these developments mean for their liquidity and capitalisation. How much uncertainty – that is, risk – can I afford? With so much at play, risk managers won't be bored for the foreseeable future.
What role do statutory regulations play in this?
Since the German Corporate Control and Transparency Act (KonTraG) came into force in 1998, most larger companies have been legally required to run a risk management system. The Transparency and Disclosure Act (TransPuG), the German Corporate Governance Code and many other standards and regulations such as DRS 5, IDW PS 340 and the very latest DIIR2 have followed. Therefore, a company without a risk management system is most likely not compliant! Increasingly, corporate leaders have been held liable for bad developments where it is found that an adequate risk management process has not been documented in a sufficient manner.
Concept, added value, practical examples: discover the world of our new service Funk Beyond Insurance now, which is uniting Industry 4.0 with risk and insurance management!
Learn more
Funk started Beyond Insurance in 2019 – how is this connected to risk management?
With Beyond Insurance, we collaborate with start-ups and use sensors and artificial intelligence to identify certain risks even before they arise and prevent them from occurring. Together with clients and technology providers, we test approaches to risk prevention. We can develop insurance solutions perspectively for risks that are not insurable at the moment. This means even more protection for our clients!