Insurance and sustainability: High time for green ideas
Current developments such as natural disasters have put sustainability on company agendas. We show you what to consider when it comes to insurances, risk management and employee benefits, and what creative solutions can look like.
Like the coronavirus pandemic, sustainability was one of the topics on everyone's lips last year. 'We're here, we're loud, because you're stealing our future,' called the Fridays for Future activists on the streets. In talk shows, party members discussed climate protection targets, quotas for women, and the commuter allowance ahead of the Bundestag election. And the German news programme Tagesschau showed alarming images that reveal the climate crisis is already on our doorstep – and in cellars and living rooms. The storm front Bernd flooded entire towns and caused billions of euros of damage.
Approaching sustainability and insurance holistically
How are we contributing to achieving Germany's climate targets? And how important is sustainability for our customers, partners and employees? Many companies have been asking themselves these questions and have put the topic high up on the 2022 agenda. 'Sustainability is becoming more and more relevant, which is clearly reflected in conversations with clients and insurers,' says Dr Anja Funk-Münchmeyer, Managing Partner of Funk (see interview below). Sustainability is so much more than just climate protection and encompasses three dimensions: environmental, social and corporate governance (ESG). 'The topic should be approached holistically,' recommends Dr Funk-Münchmeyer. 'As a system provider, Funk has in-depth insight into the areas of insurance, risk management and employee benefits and can provide tailored recommendations for sustainability risks.' Below, we provide an overview of the most important aspects of sustainability within a context of insurance and present initial solutions.
'Different sectors face different challenges – even when it comes to sustainability.'
Finding creative paths
Many insurers are repositioning themselves to be more sustainable. They're rethinking their system strategy and taking a closer look at the effects of sustainability on their client portfolio. In some cases, they're breaking ties with companies that have a negative impact on the climate crisis, which primarily affects companies that mine fossil fuels such as petroleum and coal or use these to generate energy. Companies which rely heavily on coal may potentially need to cover some of their risk themselves over the medium term because their cover insurance cannot be extended. In turn, this will reduce the size of the insurance market and thus make insurance cover more expensive. Funk can support clients in this situation with solutions such as well-developed acceptance models. At the same time, the insurance sector supports the transition to renewable energies with special concepts such as those for battery storage and for protecting subsidies.
Natural disasters have increased and will continue to do so as a result of climate change. According to reinsurer Munich Re, the total claims resulting from forces of nature worldwide rose by 70 billion US dollars to 280 billion US dollars in 2021. These costs take a heavy toll on insurers and are therefore passed on, in part, to clients. The property insurance market therefore remains extremely challenging. Funk provides various forms of support here, including alternative cover schemes and intelligent solutions such as parametric insurances.
As sustainability grows, so too do new risks
The requirements and standards associated with ESG are on the rise in many sectors, which can lead to new risks that companies should absolutely take into account. New laws can have an impact on liability insurance, for example. In fact, the diesel scandal revealed that the risk of personal injury or property damage can result not only in recall obligations, but also in violations of environmental standards. The purpose of the new German Supply Chain Act is to protect human rights, which represents the social aspect of sustainability. And the whistleblowing law calls for the introduction or revision of an internal whistleblowing system, which falls into the category of corporate governance. All these guidelines need to be taken into account and can have an impact on D&O and legal protection insurance. Funk will be happy to analyse, on your behalf, which ESG risks apply to your company and to show you where to begin with your risk management.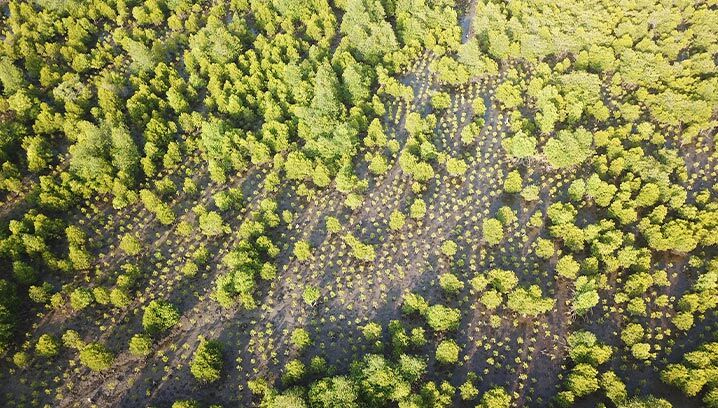 Sustainability at Funk
Mangroves in Myanmar, benefits for employees and our own foundation: learn more about our commitment to the three sustainability criteria: environmental, social and corporate governance.
Learn more now
Some policies will need to be adapted
ESG topics belong on the checklist even when it comes to routine insurance cover assessments. For instance, when companies convert buildings and plants in order to produce or use green energy, new risks may arise. For example, if they're building photovoltaic systems on the company grounds or installing electric charging stations for electric vehicles, property or technical insurance policies may need to be adapted. Funk is happy to offer annual and strategy meetings to assess whether your insurance model needs to be updated. If necessary, we can even develop new products. With our Funk electric charging station policy, for example, which is a combination of electronic equipment and public liability insurance, we respond to new requirements in the property sector and bring sustainability and insurance together.
Company pensions schemes are increasingly green
Sustainability is a key topic even in the company pension sector. Insurers are increasingly opting for investments based on sustainability criteria, meaning companies have a larger selection to choose from and can assess the strategy that insurers are using to incorporate sustainability risks. Funk provides comprehensive advice on a variety of options and presents both the advantages and disadvantages. We are at your side – for ESG risks and for the topics of sustainability and insurance.
Sustainability as strategic risk management
Dr Anja Funk-Münchmeyer is a shareholder and Managing Partner of Funk. She is in charge of Corporate Communications, Digital and Organisational Development.
Dr Funk-Münchmeyer, how important is sustainability for the company?
Sustainability comes at the company from many different directions. A few examples: A business partner would like some information from you for their sustainability report. The legal department needs to examine the new whistleblowing law. The insurer may be considering increasing the property insurance premium due to the financial consequences of the most recent storm. A trainee would like a company bike. And then, during a job interview, an applicant asks you what your company's purpose is and if you have a diversity strategy. As you can see, a holistic approach makes good sense due to the variety of topics.
So how should companies adapt their risk management?
We advise companies to get acquainted with the topic and its many facets early on and thus effectively position and protect themselves. Evaluating ESG risks for your company is a form of proactive risk management and offers stability, regardless of whether a company chooses to operate more sustainably in the future or not. We'll be happy to provide support with relevant analyses and creative solutions. Incidentally, sustainability also contributes to employer attractiveness.
How exactly does Funk help its clients deal with sustainability risks?
With tailored solutions. Different sectors face different challenges, which also applies to sustainability. Climate protection is a much more comprehensive topic for manufacturing companies than it is for service providers – to name just one example. In addition, some companies are ahead of others. Sustainability has long been an area of focus for some companies – as it is at our family-run company, where sustainability is in our DNA – whilst others are just getting started. We support all our clients on their journey to the future and provide them all with the best recommendation, which is to incorporate sustainability into insurances, risk management and employee benefits.