When the platform takes care of data protection
User consent is required for any form of data processing – this is a challenge that website and app operators have faced since the GDPR came into force. A consent management platform helps keep marketing measures on the right side of the law.
Challenge: lawful handling of user data
Since the General Data Protection Regulation (GDPR) came into force on 25 May 2018, websites and app operators in the EU have faced an entirely new challenge: they must ensure that personal data is processed and handled lawfully in line with the regulation. In the online marketing environment this means that website operators have to obtain user consent to the use of certain web technologies for marketing purposes, such as pixels, cookies or similar.
Cookies
HTTP cookies are files stored on a user's computer from websites they visit while surfing the internet. The cookies store the user's session ID and personal page settings, such as the preferred language, login information or the user's basket in a webshop. Each time a page is visited again, the related cookies are read out by the web server in order to personalise the user experience.
The processes here are very complex. Current developments often make things even more confusing for those involved: one example here would be the European Court of Justice Judgement of 1 October 2019 on the obligation to obtain consent for cookies (C-673/17) and the increasing use of the IAB Transparency and Consent Framework, which aims to offer the digital marketing ecosystem a standard for implementing the guidelines and directives.
'Companies that run clean consent management gain the trust of their users and make privacy a competitive advantage for them.'
Solution: a platform for data processing and performance marketing
A consent management platform (CMP) offers security in data management and, above all, documentation of user consent, and may well be part of the basic setup of every marketing department in future. In collaboration with its partner Usercentrics, Funk Beyond Insurance supports clients in this area with an innovative software solution. Enterprises, publishers and agencies can obtain and manage user consent to data processing in detail using the CMP, and document consent in a legal, audit-compliant way. Setup and integration of the software in a website is quick.
Consent Management
For marketers, website operators and especially online retailers, consent management is the process of obtaining user consent to store and process their data. It is usually implemented on websites in the form of a pop-up window or banner providing notice that data is being collected. It gives users the opportunity to explicitly consent to data processing for different purposes and marketing technology providers. This type of explicit consent procedure is also known as an opt-in.

Marketing ready for the future in 3 steps with the CMP from Usercentrics
1. Obtain consent
Fulfilment of duties to inform
Compliance with legal requirements
Secure, verifiable documentation
2. Manage consent
Flexible data protection strategy
Quick response to legal changes
3. Optimise consent
A/B testing
Reactivation of opt-out users
Contextual consent for YouTube, Google Maps, social plug-ins and the like
The consent management platform from Usercentrics also meets all other important requirements:
Legal certainty
The CMP is compatible with all current regulations (e.g. GDPR or the California Consumer Privacy Act, also known as the CCPA) and all standards (e.g. IAB Transparency and Consent Framework). Users can withdraw their consent to data usage or adjust their preferences at any time. The CMP also offers appropriate legal wordings which can be integrated in data protection statements and privacy policies.

Future-proof
Changes to legal strategy can be made directly in the CMP interface.

Adaptability
The CMP can be integrated in any website or app. The design can also be individually adapted to the client's corporate identity.

Compatibility
Regardless of the provider and technology (cookies, plug-ins, pixels, etc.) the CMP can be integrated in any data processing service or connected to other data silos via programming interfaces.

Opt-in optimisation
The client can choose from a range of performance marketing functions, in order to constantly increase opt-in rates among its users – e.g. through A/B testing, incentive opt-ins or context-dependent opt-in functions.
Benefit: trust as a competitive advantage
'Companies that run clean consent management gain the trust of their users and make privacy a competitive advantage for them,' says Manuel Zimmermann, Beyond Insurance Manager at Funk. After all, only those who take the principle of user data autonomy seriously and carefully integrate corresponding procedures in their processes will be able to benefit from the legal situation now and above all, in the future. Companies thus not only avoid fines and penalties from legislators but also protect themselves from losing the trust of their users when they engage with serious marketing technology partners.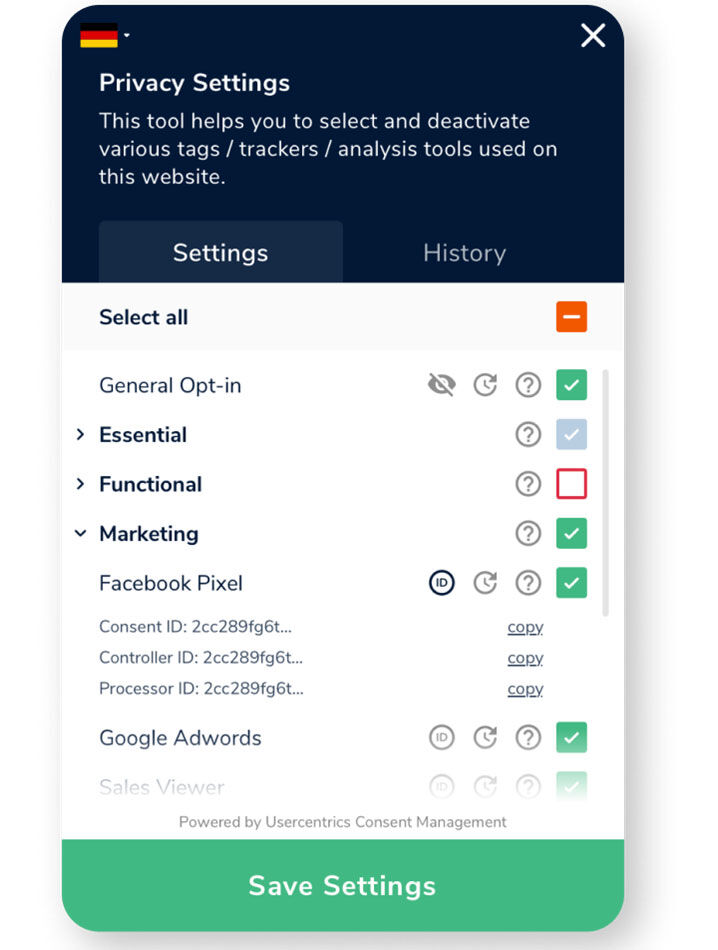 Usercentrics' CMP offers customers numerous functions, such as the selection of appropriate analysis tools for their own website. © usercentrics
Project progress: optimising data protection quickly
The CMP is implemented in a website in three simple steps:
1. Configuration and implementation
Initial technology scan
Consultancy and support from the Customer Success Team based on the booked package
Setup of JavaScript
2. A/B testing and optimisation
Integration of JavaScript (integration in a tag manager or directly in the website)
Access to the Usercentrics admin interface
Opt-in optimisation: A/B testing of different design and implementation versions
3. Connection to other systems
Professional enterprise support according to service level agreement
Tailor-made software based on individual needs
Integration of the system landscape
Suitable for: enterprises, publishers and agencies
'The opt-in rate will become the new currency in online marketing of the future. Because without user consent, data-driven models and digital offers no longer work,' emphasises Benedikt T. Brahm, Business Analytics Consultant at Funk. Consent will therefore become the determining factor for data strategy in the future. With a consent management platform, enterprises, publishers and agencies will be able to respond to new legal changes quickly and simply. After all, it is not just in the EU but all over the world that efforts to enact data protection legislation are on the rise, such as in the United States, as is the case with the CCPA, or in Brazil. The use of a CMP therefore offers legal certainty with maximum flexibility.
Technical aspects

Online marketing and digital business

Consent management platform
Benefits/objectives

High-integrity data processing

GDPR compliance
Your point of contact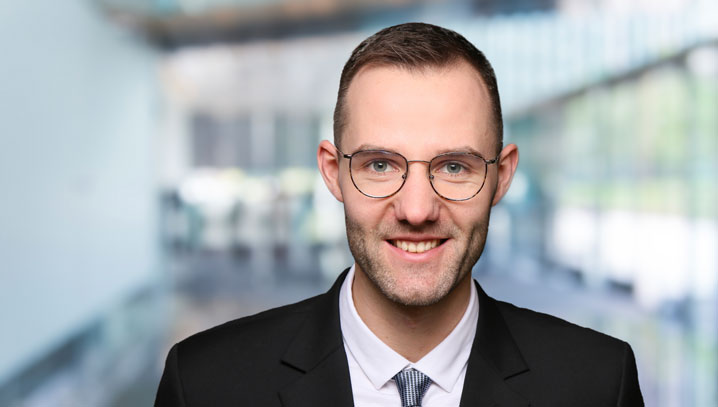 Manuel Zimmermann
+49 40 35914-0
E-Mail-Contact