How drones detect damage to photovoltaic systems
Operators of photovoltaic systems have to carry out regular inspections, both to ensure module performance and maintain insurance cover. The use of modern drone technology makes this process more efficient and offers interactive data processing, so that damage can be repaired quickly.
Challenge: increasing the efficiency of inspections
Inspections and prompt maintenance are essential for system operators. On the one hand, losses and safety-relevant defects can be uncovered, and on the other these measures are often part of the obligations that must be met in order to maintain insurance cover. Primarily with photovoltaic systems, thermographic inspections have proven useful because the cabling between the modules does not have to be disconnected in the process. The system can continue running without interruption. Conducting these types of inspections with a handheld camera is not just inefficient but also not cost-effective. This is because this conventional method of temperature measurement produces hundreds of individual photos without any specific location data or documentation. Notes for the images have to be created manually and then transferred to a database. The data is therefore only useful to a limited extent, mainly because it is very difficult to deploy when running comparisons.
Drone/UAV
A UAV (unmanned aerial vehicle) is an aircraft without a human pilot on board, steered via remote control or software application by a pilot. In general speech, the term 'drone' has become common parlance. Depending on the application, drones are equipped with cameras, special sensors or small loads for transport.
'The drone takes high-resolution thermal images during the inspection and locates errors in the modules using artificial intelligence.'
Solution: damage analysis with drone technology
Drones provide quick and efficient help when inspecting the photovoltaic systems. In collaboration with its partner FairFleet, Funk offers clients from the solar energy industry a solution here that not only saves money by using state-of-the-art hardware and software, but also increases system performance. 'The drone takes high-resolution thermal images during the inspection and locates errors in the modules using artificial intelligence,' explains Benedikt T. Brahm, Business Analytics Consultant at Funk. 'Plus wire breaks, cracks and shading are identified, located and documented. All identified damage is then integrated for display on an online platform.' The result is a detailed analysis and evaluation which can be used as a basis for decision-making by operators and for targeted location of faulty modules by technicians.
Benefit: error correction meets risk prevention
Drone technology uses artificial intelligence to precisely detect a number of anomalies in the solar energy systems, such as module sections that are incorrectly connected or not connected at all, faulty plug connections, overheated cells and hotspots, and faulty soldering or shading. Furthermore, faulty and heated bypass diodes and blocked cell sections are identified, and a list of notes regarding potential-induced degradation (PID) is created. Damage is displayed on an interactive platform, so the operator receives a precise summary of all errors identified in the photovoltaic modules. The different anomalies can be displayed and assigned a priority using a colour-coding system. The technician can export the data as a KML or SHP file in order to load the list of errors on their mobile device and repair the anomalies directly, without having to waste a lot of time locating the errors. An individual error report can also be shared with colleagues at any time.
Artificial intelligence (AI)
AI is an umbrella term for software-based applications that replicate the intelligent performance of the human brain – learning, making judgement calls and solving problems. It is essentially based on algorithms for calculating probabilities and detecting patterns in extensive datasets. The most important feature of AI methods is the ability to learn, whereby the application not only makes decisions based on prescribed, memorised examples it has been fed, but is also able to generalise knowledge gained and apply it correctly in practice. Thanks to these methods, AI applications are constantly improving over time and performing the tasks they have been assigned better and better.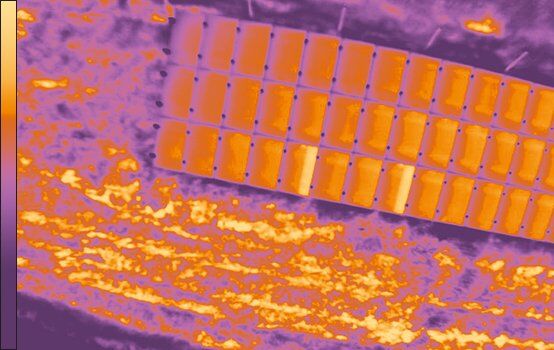 High-resolution thermal images taken with modern drone technology show errors in the individual photovoltaic modules.
Funk Beyond Insurance is also already building on further potential benefits of the technology where insurance is concerned, as Manuel Zimmermann, Beyond Insurance Manager at Funk, reveals: 'We are currently working on getting insurers to see the benefit of using drones for inspecting or testing structural systems.' In this case, not only is claims processing a focus but also risk prevention: Data collected by a flying drone can be used to create true-to-size, photogrammetric 3D models of an entire building or just the roof, for example. Operators can therefore better estimate potential risks; moreover, precise documentation of the property can be used in the event of damage. The automated analysis reports also help aid roof inspections in the event of damage from hail, storms or tears in the roof cladding.
Project progress: service from approval to data processing
Drones are subject to strict regulations, which differ depending on the federal state, and commercial drones can only be flown by professional, licensed drone pilots. The FairFleet team runs an air check for each mission and takes care of obtaining special permits, if necessary. The clients first choose a specific package and define the address where the flight is to take place, performance data and size of the area to be covered. Using a thermal camera, the pilot then flies the drone in accordance with set standards to the corresponding target, such as the photovoltaic system of the Funk client, in a partially automated process. Then images are recorded as desired in the booking and provided for download through a secure client profile. An interactive online tool is also available to view, process and share the data.
Suitable for: inspecting large buildings and systems of all types
Using drone technology, Funk Beyond Insurance and FairFleet together offer benefits anywhere where large-scale inspections and efficient data processing are required: in the energy sector, as shown in the client example, but also in the real estate and insurance industries, or in agriculture or for operators of large infrastructures. One example here is the analysis of farmland, where the data is output as an application or zone map with specific recommendations concerning more or less fertilisation. Precise maps can also be created for urban planning and for orientation and visualisation of construction projects. These maps then serve as a basis for stocktaking, surveying and mapping properties or areas, and are suitable for further processing and analysis in geoinformation systems. Benedikt T. Brahm: 'Regardless of what industry they are deployed in, drones represent an efficient tool that can be used flexibly thanks to the high-resolution, true-to-detail results.'
Your point of contact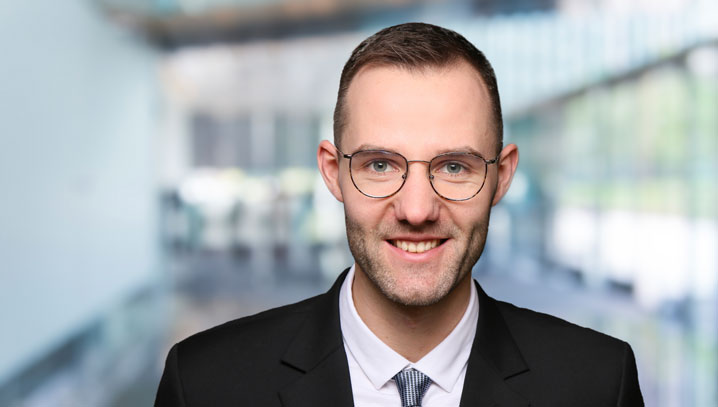 Manuel Zimmermann
+49 40 35914-0
E-Mail-Contact
Technical aspects

Photovoltaic systems

Drones

Artificial intelligence
Benefits/objectives

Risk assessment and
documentation

Time and cost savings