This is Funk CyberSecure
Cyber risks threaten the economy. With Funk CyberSecure, Funk offers an exclusive, customisable insurance solution.
In light of reports in the media and all of the accompanying attention, the topic of IT risks is increasingly coming into focus. One of the main reasons for this is the fact that IT has evolved from just a support process to a central resource in companies. This shift and the associated increase in importance equally give rise to a change in the threat situation. In addition to violations of data protection and integrity, the unavailability of data and IT systems can lead to serious impairment of business operations and the damages that come with that.
Immense damage due to user errors
There are many different reasons why data and IT systems may be unavailable, and these are not limited to cyber crime and data protection breaches. Even user errors by employees or technical problems can cause immense damage. 'It's extremely difficult to calculate the consequences beforehand,' says Michael Winte, Head of the Cyber, Technology & Crime team at Funk. Causes of damage in the Funk CyberSecure model are based on the Threats Catalogue of the German Federal Office for Information Security (BSI) and do not stop at cyber crime and data protection breaches.
As such, the Funk CyberSecure model takes a significantly more comprehensive approach to cyber protection than many other cyber policies available on the market. Classic insurance products do not provide sufficient protection – or sometimes any protection – against damage threats caused by information security breaches (violations of data confidentiality or integrity and availability of data and IT systems), because they are not able to sufficiently cover the wide range of risks and potential damages.
In the event of an information security breach, Funk CyberSecure offers insurance cover for first party losses as part of comprehensive cost components for first-party claims, blackmail, business interruptions and the indemnification or defence of liability claims. Funk CyberSecure also has additional features, including in particular the shift of the burden of proof from the policyholder to the insurer in the event of a claim.
Many cyber attacks are difficult or practically impossible to prove after the fact. By shifting the burden of proof, the insured party is spared the often arduous task of searching for evidence.
Cross-industry needs
The demand for insurance solutions for cyber risks is enormous; the need for security and transfer of risk in this area exists across industries and applies to companies of all sizes. Michael Winte says: 'There are many different reasons for the increase is risk awareness, which certainly include the GDPR, the increasing global connectivity and reports in the media. And also the fact that the responsibility for organisational and technical IT security measures and any transfer of risk in the company due to the current threat situation is increasingly shifting to company management boards, and executives find themselves exposed to significant liability risks where there are shortfalls.'
Insured risks
Network security breaches

Hackers, viruses, Trojans
DOS attacks
Data protection/confidentiality breaches
User errors / sabotage by employees
Technical problems

Example: overvoltage, voltage drops, on-site power failures, internal network errors, hardware errors
Funk CyberSecure services
Third-party loss

Protection from/satisfaction of third-party claims
Punitive or exemplary damages or fines
Contractual penalties and fines
First-party losses

Service, consultancy, monitoring and information costs
Costs for restoring reputation, crisis management
Business interruption losses

Incurred costs and operating profits
Defined additional costs
Other cover modules

Cyber crime (e.g. misdirection of moneys)
Ransom payments
Material first-party loss
Your point of contact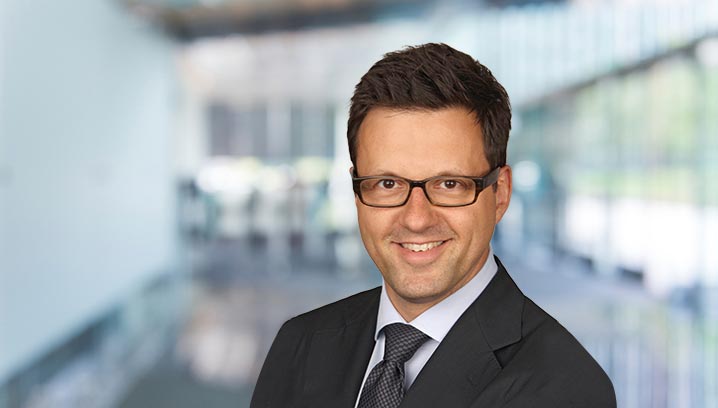 Michael Winte
+49 40 35914-0
E-Mail-Contact