Property insurance for companies – your specialist for property damage and BI (business interruption) insurance
Every company has certain associated risks. Those that are the most difficult to calculate are unforeseen damage to company buildings, production facilities, machines or inventory, for example because of fire, storms, flooding, break-ins or theft. Property insurance is therefore a basic insurance cover for companies – but the corresponding agreement and cover should be specifically targeted towards the insured interest or risk of the client and their industry.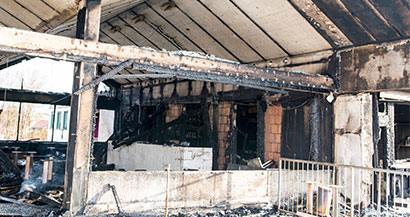 Funk has been supporting companies in a wide range of industries for many years as an independent insurance broker and reliable partner in all matter concerning risk management. With a wording that goes far beyond the standard terms and wordings of other market players, and that we continuously develop based on market changes and claims histories, we offer you solutions ranging from classic cover of individual risks, such as fire insurance and others, to natural hazard insurance and all risk cover. Other optional insurance components for material damage or business interruption (loss of earnings) insurance can be added, depending on the industry and risk philosophy of the client, to create a tailored insurance solution.
Protect your company from loss of earnings and damage to your image as a result of property damage
Property damage can have a massive impact on a company, but even more serious is the interruption to business usually experienced when damage is incurred. In addition to loss of earnings with ongoing costs, production interruptions and broken promises regarding delivery time frames can cause damage to your image and encourage your customers to go elsewhere for their goods or services. Business interruption insurance provides comprehensive cover of the financial consequences of reduced output and loss of earnings in operation and protects companies from substantial losses that may affect their survival. Depending on the agreement, the insurance cover protects the following in particular:
Interruption losses, the incurred costs when business is interrupted and the lost earnings from profit and turnover for the products being manufactured
Interdependencies between insured company departments and separate parts of business operations
Contingency claims (only based on special agreement) for suppliers or customers involved in the supply relationships with the insured company
The full package for financial protection in the event of a claim
Our expert, cross-discipline knowledge offers clients the opportunity to precisely tailor their property damage and business interruption solutions to each other so they only purchase the cover they truly need. We devise a tailored solution based on our clients' specific insurance requirements and provide our recommendation for comprehensive insurance cover. We help international clients set up international insurance programmes that are exactly adapted to the structure and needs of their company.
---
Your contact request has been sent.
Your point of contact

Christian Pietsch
+49 40 35914-0
E-Mail-Contact
Operational risk fields
Share
---